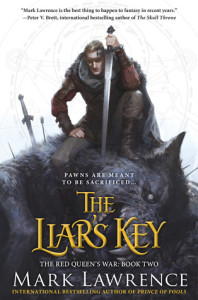 After the ghastly events at the end of Prince of Fools, Jalan and Snorri are locked in the northern town of Trond by the icy grip of the Norse winter. As spring rolls around, Snorri, equipped with Loki's key, is hell-bent on finding the door to hell itself, regardless of what lies between him and it or or beyond, to try and wrest his wife and children from death's cold embrace. Throughout their journey, however, the pawns of the Dead King, a pawn himself, will be relentlessly hounding the duo, and it remains unclear whether their darkspawn and lightspawn guardians are even guardians at all.
Back when I began King of Thorns in mid-2013, I actually ended up shelving the book because it wasn't one that fit my mood at the time. It took me about 10 months to pick it back up again and finish it. Looking back and having finished all of Lawrence's books to date, I cannot even fathom doing that again. The man takes something for every reader, be it prose, worldbuilding, plot, characterization, or whatever else tickles your fancy, and tackle it with an incredibly deft hand. His prose is second to none in the genre (yes, right next to Guy Gavriel Kay), and his ability to write beautifully without being wordy is mind-boggling. It's this exact balance that he utilizes in his worldbuilding as well, where you know just enough about the Builders and the apocalypse that annihilated our civilization that you're content, but he drip-feeds more and more details that leave you subconsciously craving more.
When you open a Lawrence book, you know you're in for a ride, as the way he plots never leaves you feeling underwhelmed. There are plenty of times in books I've enjoyed that I find myself thinking that a particular passage is slow or some sort of lull. With The Broken Empire and The Red Queen's War, you're never below a 5 or a 6, and often you're closer to a 10. That's not something many authors can accomplish, and it leaves his books at the sweet spot for length: 350-600 pages.
Because I'm apparently incapable of doing anything other than praise his work, let's talk about Lawrence's characters. By the end of Emperor of Thorns, many readers empathized with Jorg in some way (insofar as one can empathize with a cold-blooded killer), and in Prince of Fools and now The Liar's Key, Jalan and Snorri have an especially complex relationship that is ever-evolving. Jalan begins the tale a selfish, womanizing coward, and in this middle novel, he's still a selfish, womanizing coward, but he clearly grows as the tale moves along. Picture this: Snorri's pinned to the ground by some Red Vikings and about to be axed. Will Jalan run? The old one almost certainly would have, but would the new one? The one who's traveled for months alongside Snorri while the Silent Sister's bond grows weaker in contrast to their bond of friendship? The way it's written, you're left with a feeling of doubt that keeps you reading and reading despite what you think you know, wondering if people really can change.
Lawrence continues with the compelling…well, everything, and injects the humor we saw in Prince of Fools at the most perfect times. The same themes resonate with yet greater impact: love and loss, courage and friendship, and Lawrence continues to improve, even when it seems like he has nothing to improve upon.