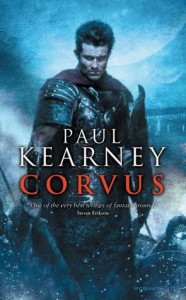 Roughly 25 years after Rictus and his Dogsheads returned from the epic march of The Ten Thousand, the man is still a mercenary, but this time when his contract ends he's contemplating retirement. He's no longer a young man. As he settles back into farm life, tales begin to reach his secluded farmhouse of a young upstart named Corvus who desires to unite the Macht under one king. Corvus is clearly a model of Alexander the Great in nearly every way but for his lack of royalty in Corvus, down to the Companion Cavalry. He's a brilliant tactician, he's charismatic, and he's mightily ambitious. He's heard the legend of Rictus, the Dogsheads, and the march of the Ten Thousand since he was a child, and he wants the man himself to aid him in his conquest of the Macht.
The spear by the door.
So says one of the part headings of Kearney's Corvus. I think that it's a very poignant phrase in its simplicity. Rictus wants to leave the life of soldiering, but he can't – it's such a part of him that he isn't sure what he would do without it. The spear by the door is a constant reminder of what he is: a killer of men. And it's something he knows, as is shown in his constant return to the life of a military man. He's strikingly similar to Christian Cameron's Arimnestos in his Killer of Men series. The two characters are very similar in that their lives and families have been brutalized by their choice of profession, but they simply can't leave it or escape it. It's a very relevant phrase to today's life as well, as there are many soldiers who continue to re-enlist in the military because it's all they know.