Many times the anticipated and best-of lists are tediously similar (but usually for good reason). I'm not going to list things like The Doors of Stone or The Winds of Winter because they're simply not coming out this year. I attempted to avoid some of the repetitive tedium, but as I said, the works wouldn't be anticipated if the author's previous works weren't good.
A few 2015 releases that I am particularly excited for: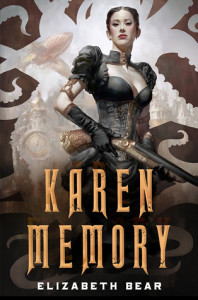 Hugo-Award winning author Elizabeth Bear offers something new in Karen Memory, an absolutely entrancing steampunk novel set in Seattle in the late 19th century—an era when the town was called Rapid City, when the parts we now call Seattle Underground were the whole town (and still on the surface), when airships plied the trade routes bringing would-be miners heading up to the gold fields of Alaska, and steam-powered mechanicals stalked the waterfront. Karen is a "soiled dove," a young woman on her own who is making the best of her orphaned state by working in Madame Damnable's high-quality bordello. Through Karen's eyes we get to know the other girls in the house—a resourceful group—and the poor and the powerful of the town. Trouble erupts into her world one night when a badly injured girl arrives at their door, seeking sanctuary, followed by the man who holds her indenture, who has a machine that can take over anyone's mind and control their actions. And as if that wasn't bad enough, the next night brings a body dumped in their rubbish heap—a streetwalker who has been brutally murdered. Bear brings alive this Jack-the-Ripper-type story of the old west with the light touch of Karen's own memorable voice, and a mesmerizing evocation of classic steam-powered science.
I've only read the first in Bear's Eternal Sky series, Range of Ghosts, but if Karen Memory is anything like it (albeit in a science fiction setting), I have a feeling I'll love it.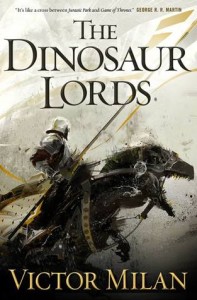 A world made by the Eight Creators on which to play out their games of passion and power, Paradise is a sprawling, diverse, often brutal place. Men and women live on Paradise as do dogs, cats, ferrets, goats, and horses. But dinosaurs predominate: wildlife, monsters, beasts of burden – and of war. Colossal planteaters like Brachiosaurus; terrifying meateaters like Allosaurus and the most feared of all, Tyrannosaurus rex. Giant lizards swim warm seas. Birds (some with teeth) share the sky with flying reptiles that range in size from batsized insectivores to majestic and deadly Dragons.
Thus we are plunged into Victor Milán's splendidly weird world of The Dinosaur Lords, a place that for all purposes mirrors 14th century Europe with its dynastic rivalries, religious wars, and byzantine politics…and the weapons of choice are dinosaurs. Where we have vast armies of dinosaur-mounted knights engaged in battle. And during the course of one of these epic battles, the enigmatic mercenary Dinosaur Lord Karyl Bogomirsky is defeated through betrayal and left for dead. He wakes, naked, wounded, partially amnesiac – and hunted. And embarks upon a journey that will shake his world.
Look at the cover. Look at it! A knight riding a fucking dinosaur. I would contemplate murder for a copy of this book.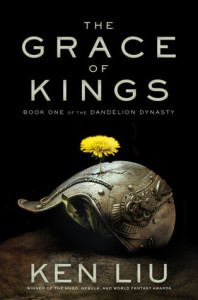 Wily, charming Kuni Garu, a bandit, and stern, fearless Mata Zyndu, the son of a deposed duke, seem like polar opposites. Yet, in the uprising against the emperor, the two quickly become the best of friends after a series of adventures fighting against vast conscripted armies, silk-draped airships, soaring battle kites, conspiring goddesses, underwater boats, magical books, as a streetfighter-cum-general who takes her place as the greatest tactitian of the age. Once the emperor has been overthrown, however, they each find themselves the leader of separate factions—two sides with very different ideas about how the world should be run and the meaning of justice.
There aren't enough fantasy (or even non-fantasy) novels with a wuxian setting. Guy Gavriel Kay's  Under Heaven was riveting and had me scowering the internet for more Chinese-based reads, but to no avail. Hopefully Ken Liu can deliver.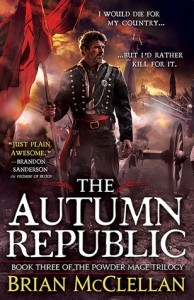 Adopest has fallen…
Field Marshal Tamas returns to his beloved country to find that for the first time in history, the capital city of Adro lies in the hands of a foreign invader. His son is missing and his allies are indistinguishable from his foes, and reinforcements are several weeks away.
With the Kez still bearing down upon them and without clear leadership, the Adran army has turned against itself. Inspector Adamat is drawn into the very heart of this new mutiny with promises of finding his kidnapped son.
And Taniel Two-shot, hunted by men he once thought his friends, must safeguard the only chance Adro has of getting through this war without being destroyed…
I'm a huge fan of flintlock fantasy, and McClellan is one of the best in the relatively small subgenre. The action rarely stops in the Powder Mage trilogy, and the plot has thickened incredibly leading up to The Autumn Republic, which might be my favorite book title ever.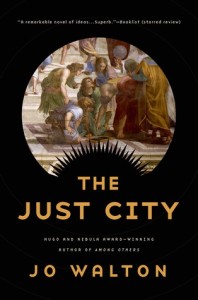 Created as an experiment by the time-traveling goddess Pallas Athene, the Just City is a planned community, populated by over ten thousand children and a few hundred adult teachers from all eras of history, along with some handy robots from the far human future—all set down together on a Mediterranean island in the distant past. The student Simmea, born an Egyptian farmer's daughter sometime between 500 and 1000 A.D, is a brilliant child, eager for knowledge,  ready to strive to be her best self. The teacher Maia was once Ethel, a young Victorian lady of much learning and few prospects, who prayed to Pallas Athene in an unguarded moment during a trip to Rome—and, in an instant, found herself in the Just City with grey-eyed Athene standing unmistakably before her.
Meanwhile, Apollo—stunned by the realization that there are things mortals understand better than he does—has arranged to live a human life, and has come to the City as one of the children. He knows his true identity, and conceals it from his peers. For this lifetime, he is prone to all the troubles of being human. Then, a few years in, Sokrates arrives—the same Sokrates recorded by Plato himself—to ask all the troublesome questions you would expect. What happens next is a tale only the brilliant Jo Walton could tell. 
I've yet to read Jo Walton, but steeped in history and mythology, The Just City looks like her most compelling work yet.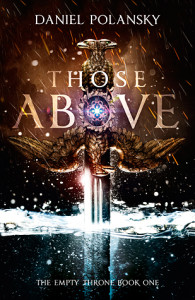 They enslaved humanity three thousand years ago. Tall, strong, perfect, superhuman and near immortal they rule from their glittering palaces in the eternal city in the centre of the world. They are called Those Above by their subjects. They enforce their will with fire and sword. 
Twenty five years ago mankind mustered an army and rose up against them, only to be slaughtered in a terrible battle. Hope died that day, but hatred survived. Whispers of another revolt are beginning to stir in the hearts of the oppressed: a woman, widowed in the war, who has dedicated her life to revenge; the general, the only man to ever defeat one of Those Above in single combat, summoned forth to raise a new legion; and a boy killer who rises from the gutter to lead an uprising in the capital.
Dan Polansky's Low Town series was very well received and I want to read it every time I see one of t he books, but urban fantasy has never been my thing. Hopefully Those Above will convince me to backtrack in his work. Between the cover and the blurb, it sure as hell looks like it could.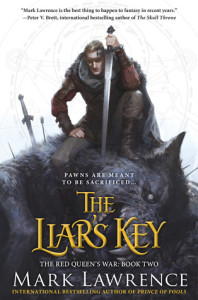 The eyes of the mighty are on the North. Loki's key has been found and lies in the hands of a feckless prince and a weary warrior. Winter has locked Prince Jalan Kendeth far from the luxury of his southern palace. The North may be home to Viking Snorri ver Snagason but he is just as eager to leave. However, even men who hold a key that can open any door must wait for the thaw.
As the ice unlocks its jaws the Dead King moves to claim what was so nearly his. But there are other players in this game, other hands reaching for Loki's key. Jalan wants only to return to the wine and women of the south, but Snorri has a different and terrifying goal. The warrior aims to find the very door into death and throw it wide. Snorri ver Snagason will challenge all of Hell if that's what it takes to bring his wife and children back into the living world. He has found the key – now all he needs is to find the door. But pawns are played to sacrifice and the Red Queen set both these men upon her board. How many moves ahead has the Silent Sister seen? How far will they get before their part in the game is over?
It's no secret that I'm a huge fan of Mark Lawrence's work. The Broken Empire is one of my favorite series, and Prince of Fools was a fantastic start to The Red Queen's War. I have complete faith that Lawrence will deliver.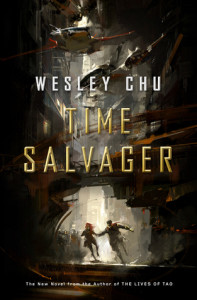 In a future when Earth is a toxic, abandoned world and humanity has spread into the outer solar system to survive, the tightly controlled use of time travel holds the key maintaining a fragile existence among the other planets and their moons. James Griffin-Mars is a chronman–a convicted criminal recruited for his unique psychological makeup to undertake the most dangerous job there is: missions into Earth's past to recover resources and treasure without altering the timeline. Most chronmen never reach old age, and James is reaching his breaking point. 
On a final mission that is to secure his retirement, James meets an intriguing woman from a previous century, scientist Elise Kim, who is fated to die during the destruction of an oceanic rig. Against his training and his common sense, James brings her back to the future with him, saving her life, but turning them both into fugitives. Remaining free means losing themselves in the wild and poisonous wastes of Earth, and discovering what hope may yet remain for humanity's home world.
Wesley Chu is another I've been meaning to read, and Time Salvager's plot might be one of the few time travel ones that I'm willing to delve into.
There are many more, including several omitted for lack of a cover reveal, but this post would go on forever if I listed all of 'em. What are you looking forward to?