Hi Mark and thanks for joining me here at A Bitter Draft.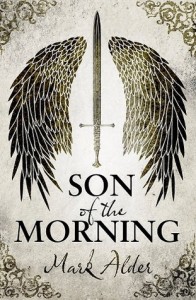 Tell us a little about your new novel, Son of the Morning. What can we expect in this historical fantasy?
It's the story of the 100 Years War – Crecy, Agincourt all that – with a fantasy twist. The mythology of the day is taken as true – God does appoint kings, angels come to the aid of knights in battle and devils and demons intercede in the affairs of men.
Why'd you go with a story set during the Hundred Years' War, coming off of your mythological viking series The Wolfsangel Cycle (as MD Lachlan)?
My editor suggested the idea and immediately saw that I could write something really interesting – to me at least – based on it. The Hundred Years War is such a rich part of English history, so many incredible characters and events, that it's a dream for any writer to get their teeth into.
Was it a difficult transition from the viking era to the medieval era?
I know the Viking era very well. I had to do a lot more research for the medieval era – not least because so much is known about it. In the Dark Ages, much is unknown. In the medieval era you can find out what the king was doing on any given day.
And why Heaven and Hell? What was the inspiration there?
Religion was of central importance in the middle ages, it's the lens through which everyone saw the world back then. It's just that the cosmology suggested itself to me immediately. If God appoints kings and sets everyone in their place in the social order, who do the poor turn to if they want to be free of their oppressors?
Is Son of the Morning going to be a series? I imagine there's plenty to cover in the century-long conflict between England and France.
I am currently writing the second in the series. You're right. The 14th century is known as 'the calamitous' owing to the amount of horrific things that occurred. There's so much to go on – from peasant uprisings to the Black Plague.
Are you currently reading anything? Who are your favorite authors at the moment?
Currently reading Simon Morden's Arcanum, which is excellent. I'm a big fan of GRR Martin and Joe Abercrombie. I also really like Graham Joyce and Adam Roberts. Outside of fantasy and SF, I love Hilary Mantel.
What can we expect from Mark Alder or M.D. Lachlan in the future?
Valkyrie's Song – a kind of fantasy take on The Road – is out later this year, set in the aftermath of the Norman Conquest. Next year we'll have the second in the Banners of Blood series, of which Son of the Morning is the first!
Thanks for joining me today, Mark!
Thank you!
Son of the Morning is due out April 17th from Gollancz.