I've got another giveaway, this time from the folks at Crown and Wunderkind PR – Chris Beckett's Arthur C. Clarke Award winning Dark Eden.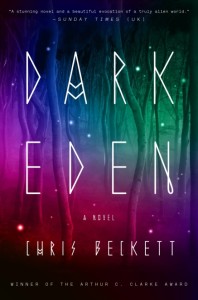 On the alien, sunless planet they call Eden, the 532 members of the Family take shelter beneath the light and warmth of the Forest's lantern trees. Beyond the Forest lie the mountains of the Snowy Dark and a cold so bitter and a night so profound that no man has ever crossed it…
The Oldest among the Family recount legends of a world where light came from the sky, where men and women made boats that could cross the stars. These ships brought us here, the Oldest say—and the Family must only wait for the travelers to return. 
But young John Redlantern will break the laws of Eden, shatter the Family and change history. He will abandon the old ways, venture into the Dark…and discover the truth about their world.
Two copies are available.
For Entry:
E-mail me at pat@abitterdraft.com with the subject DARK EDEN to enter
Include a valid mailing address (snail-mail) – not doing so will result in disqualification
One entry per person
Giveaway ends at 11:59pm EST on Friday, April 18th 2014.
Winner will be randomly selected and notified via email
US only
Be sure to follow me on Twitter for more giveaways and Goodreads for more reviews!