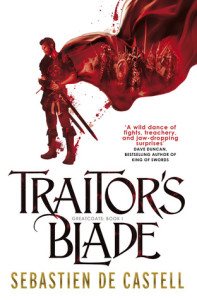 To be honest, you don't need to look further than the name of the publisher (Jo Fletcher) to know that de Castell's Traitor's Blade is an excellent book. Falcio val Mond is First Cantor of the Greatcoats, the now-dead king's elite justiciars. Since the Dukes usurped the Kingdom of Tristia from King Paelis, the disbanded Greatcoats, mockingly called Trattari, are scant few in numbers and scattered throughout the kingdom. Falcio, alongside his companions and fellow Greatcoats Kest and Brasti, were given one last mission from Paelis before he met his untimely demise. With Falcio's wit, Kest's incredible swordsmanship, and Brasti's unbelievable marksmanship, the three travel in order to complete this final mission.
From the start, it's pretty easy to see that each of the three are essentially paragons of their aforementioned talents. The book was compared with Dumas' Three Musketeers, so it's fairly necessary to begin the book not expecting a serious, grim tale. de Castell did a wonderful job combining humor and seriousness in order to create a fun, fast-paced tale with very few flaws, and Falcio, Kest, and Brasti make the perfect trio.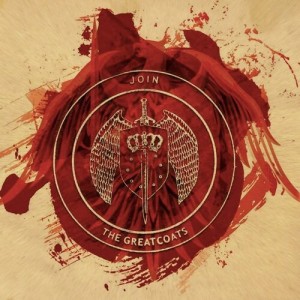 The story has its share of flaws, but they're not nearly glaring enough to detract from the entertainment value. There are the prototypical fantasy tropes – some predictability, the dead wife that shapes the character and the incredible skill of the main characters to name a few – but like I said, with the right mentality you will enjoy the hell out of this novel.
The characters are great. The banter between the three Greatcoats proves that de Castell did indeed channel his inner Dumas, and they all have their fair share of flaws. The villains are easy to hate, which fits the tone of Traitor's Blade fairly well. de Castell has choreographed fights in the past, and it is evident in his spectacular fight scenes, so if you liked the detail that went into Miles Cameron's The Red Knight's combat scenes (he's a reenactor), you'll love these.
Sebastien de Castell's Traitor's Blade delivers on many levels. It was fun, action-packed, had some great characters, and a stellar ending that leaves the reader craving more. It will without a doubt be on many best-of-the-year lists.