It's been a while since I've had a giveaway here at A Bitter Draft. This time around I've got Mark Smylie's debut novel, The Barrow, thanks to the wonderful people at Pyr.
Action, horror, politics, and sensuality combine in this stand-alone fantasy novel with series potential. Set in the world of the Eisner-nominated Artesia comic books.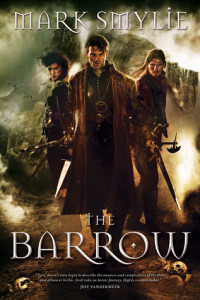 To find the Sword, unearth the Barrow. To unearth the Barrow, follow the Map.
When a small crew of scoundrels, would-be heroes, deviants, and ruffians discover a map that they believe will lead them to a fabled sword buried in the barrow of a long-dead wizard, they think they've struck it rich. But their hopes are dashed when the map turns out to be cursed and then is destroyed in a magical ritual. The loss of the map leaves them dreaming of what might have been, until they rediscover the map in a most unusual and unexpected place.
Stjepan Black-Heart, suspected murderer and renegade royal cartographer; Erim, a young woman masquerading as a man; Gilgwyr, brothel owner extraordinaire; Leigh, an exiled magus under an ignominious cloud; Godewyn Red-Hand, mercenary and troublemaker; Arduin Orwain, scion of a noble family brought low by scandal; and Arduin's sister Annwyn, the beautiful cause of that scandal: together they form a cross-section of the Middle Kingdoms of the Known World, brought together by accident and dark design, on a quest that will either get them all in the history books, or get them all killed.
Fair warning: The Barrow contains quite graphic, well, everything. Sex, gore, language, you name it. It's graphic.
For Entry:
E-mail me at pat@abitterdraft.com with the subject BARROW to enter
Include a valid mailing address (snail-mail) – not doing so will result in disqualification
One entry per person
Giveaway ends at 11:59pm EST on Sunday, April 6th 2014.
Winner will be randomly selected and notified via email
Worldwide
Be sure to follow me on Twitter for more giveaways and Goodreads for more reviews!