When I finish a book, I usually spend several days staring at my various collections, musing that I have nothing good to read. Thing is, I have too many good books to read. This list will be an attempt to give me a rough guideline to limit my aimlessness following every book. Do you plan on reading any of them?
Shadows of the Apt – Adrian Tchaikovsky
(Sorry about the sizes – it claims they're all equal in size but clearly they're not)
I can't tell enough people about Tchaikovsky's Shadows of the Apt series. A massive cast of characters done well in a unique world complete with a great magic system and steampunk-style technology. The concluding tenth title, Seal of the Worm, comes out later this summer, and I'm being overly ambitious if I think I can catch up in time (I have the three others pictured to go).
Expanse – James S.A. Corey
Dan Abraham and Ty Franck have created something really special with the Expanse. Accessible space opera that's fun as hell and reads like an action movie. Catching up on this one's a little more feasible.
The Shadow Throne – Django Wexler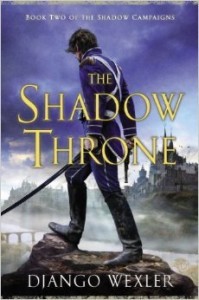 Wexler's flintlock fantasy Shadow Campaigns series began last year with the thrilling The Thousand Names which I thoroughly enjoyed, and The Shadow Throne looks to continue in that vein.
Malazan – Steven Erikson
Everybody who calls themselves a fan of the genre know's Erikson and his series that surpasses 10,000 pages. Every book is a tome, but reading thousand-pagers can be exhausting, especially considering I can probably read 3 others in the time it takes to read one Malazan. Two is also likely very ambitious, but I love the world and I'd like to get to ICE's shorter novels of the Malaz world as well as Erikson's other series in the world.
---
And the rest lumped together because I'm lazy…Jane Lindskold's Artemis Awakening sounds like a fascinating science fantasy with a distinct James Cameron's Avatar feel. Holland's Rubicon and Crowley's 1453 because I'm a sucker for history/nonfiction, C.S. Friedman's Black Sun Rising, which I've been meaning to read for some time now, and Karen Miller's The Falcon Throne, one of the most anticipated fantasy releases of the year.