The 2013 Gemmell Awards are finally over. I think the Gemmells are a more accurate than other awards like the Hugos because it seems like the fans and readers actually have an impact. Everyone gets to vote in each category. Nobody has to pay to vote. Then again, many people have pointed out that authors can fish for votes, which is also entirely true. The Gemmell Awards began back in 2009 with only one winner – that of best novel – and it went to Andrzej Sapkowski for his Witcher novel Blood of Elves.  I'm a big fan of the debut category, where new authors have a crack at winning an award rather than having to compete with established authors.
The Gemmell Awards are split into three categories: Legend for best novel, Morningstar for best debut, and Ravenheart for best cover art. The shortlists for 2013 were the following, and the winners are in bold: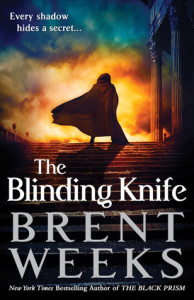 Legend
Joe Abercrombie: Red Country
Jay Kristoff: Stormdancer
Mark Lawrence: King of Thorns
Helen Lowe: The Gathering of the Lost
Brent Weeks: The Blinding Knife
This one wasn't a particular surprise to anyone. The Blinding Knife has been praised by most who have read it, and Weeks is a writer of immense talent. It's also interesting to note that sequels have a chance to win the Legend, as is the case this year where four of the five nominees were sequels (though Red Country is a quasi-sequel).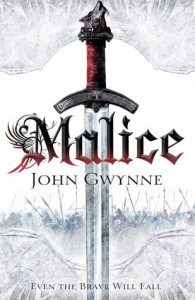 Morningstar
Saladin Ahmed: Throne of the Crescent Moon
Miles Cameron: The Red Knight
John Gwynne: Malice
Aidan Harte: Irenicon
Jay Kristoff: Stormdancer
The Morningstar was very up in the air this year. Many thought Ahmed's Throne would win, as it has been fairly well praised, especially in its unique and fresh Arabic setting. The only one I've read of the five is Miles Cameron's The Red Knight, which I thought was fantastic, so it had my vote. Rumor has it that Miles is also the pseudonym for historical fiction author Christian Cameron, which, if true, shows amazing versatility. Stormdancer has received some mixed praise, with most of the complaints coming with the fact that the book advertised itself as "authentic" to Japanese culture when in fact it was anything but, so it was anyone's guess. Harte's Irenicon and Gwynne's Malice are both somewhat unknown, especially in comparison to the other nominees. The latter's victory came as a complete surprise to many, including myself, and should give everyone incentive to read it.
Ravenheart
Didier Graffet and Dave Senior, for Red Country by Joe Abercrombie
Dominic Harman, for Legion of Shadow by Michael J. Ward
Clint Langley, for Besieged by Rowenna Cory Daniells
Silas Manhood, for The Blinding Knife by Brent Weeks
Colin Thomas, for Stormdancer by Jay Kristoff
Stephen Youll, for The Black Mausoleum by Stephen Deas 
And since the Ravenheart is strictly about covers, here are the nominees (click for a larger image):
It's easy to see why Red Country took this one home. The map, bloody knife, and coins fit the world so well and make for a very gritty but elegant cover. Destiny Quest is nothing particularly interesting and Besieged has way too much Daenerys Targaryen going on. The Blinding Knife is the cloaked/hooded man that is everywhere in fantasy. Stormdancer is also quite elegant, but I think the unrest due to the misrepresented culture killed its chance. Finally, The Black Mausoleum has one of the most impressively depicted dragons I've seen on a cover and I wouldn't have been surprised to see it win.
There you have it. What books would you like to see shortlisted/victorious in next year's Gemmells?