Tor is a powerhouse publisher, packed with great authors. I was skeptical that next year could possibly match the scale of great new debuts and other releases of this year. After browsing Tor's 2014 catalog, it's probably safe to say I was dead wrong.
From Tor's 2014 Catalog: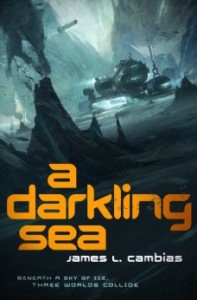 "On the planet Ilmatar, under a roof of ice a kilometer thick, a team of deep-sea diving scientists investigates the blind alien race that lives below. The Terran explorers have made an uneasy truce with the Sholen, their first extraterrestrial contact: so long as they don't disturb the Ilmataran habitat, they're free to conduct their missions in peace.
But when Henri Kerlerec, media personality and reckless adventurer, ends up sliced open by curious Ilmatarans, tensions between Terran and Sholen erupt, leading to a diplomatic disaster that threatens to escalate to war.
Against the backdrop of deep-sea guerrilla conflict, a new age of human exploration begins as alien cultures collide. Both sides seek the aid of the newly enlightened Ilmatarans. But what this struggle means for the natives—and the future of human exploration—is anything but certain."
I've never heard of James Cambias before, but he had me at "deep-sea guerrilla conflict". Out January 28, 2014.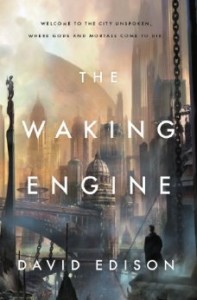 Contrary to popular wisdom, death is not the end, nor is it a passage to some transcendent afterlife. Those who die merely awake as themselves on one of a million worlds, where they are fated to live until they die again, and wake up somewhere new. All are born only once, but die many times . . . until they come at last to the City Unspoken, where the gateway to True Death can be found.
Late of Manhattan, Cooper finds himself in a City that is not what it once was. The gateway to True Death is failing, so that the City is becoming overrun by the Dying, who clot its byzantine streets and alleys . . . and a spreading madness threatens to engulf the entire metaverse.Wayfarers and pilgrims are drawn to the City, which is home to murderous aristocrats, disguised gods and goddesses, a sadistic faerie princess, immortal prostitutes and queens, a captive angel, gangs of feral Death Boys and Charnel Girls . . . and one very confused New Yorker.
I can't even pinpoint what exactly has me interested in Edison's The Waking Engine, but it looks very interesting and is out February 11, 2014.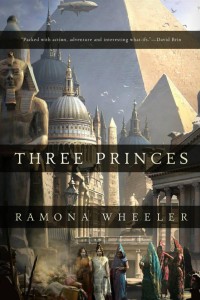 Lord Scott Oken, a prince of Albion, and Professor-Prince Mikel Mabruke live in a world where the sun never set on the Egyptian Empire. In the year 1877 of Our Lord Julius Caesar, Pharaoh Djoser-George governs a sprawling realm that spans Europe, Africa, and much of Asia. When the European terrorist Otto von Bismarck touches off an international conspiracy, Scott and Mik are charged with exposing the plot against the Empire.
Their adventure takes them from the sands of Memphis to a lush New World, home of the Incan Tawantinsuyu, a rival empire across the glittering Atlantic Ocean. Encompassing Quetzal airships, operas, blood sacrifice and high diplomacy, Ramona Wheeler's Three Princes is a richly imagined, cinematic vision of a modern Egyptian Empire.
Uh, what? The premise is absolutely ridiculous and it seems like something that really needs to be experienced. Out February 4th, 2014.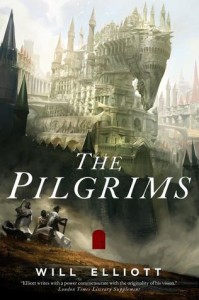 Eric Albright is leading a normal life until a small red door appears under a train bridge near his home. Then a ghostly being wakes him in the dead of night, with a message from another world: You are Shadow. In Levaal, the world between worlds, the dragon-gods grow restless in their sky prisons, and the Great Spirits struggle to contain them. Vous, the worlds Friend and Lord, simmers in madness as he schemes to join the ranks of gods. He and the Arch Mage have almost won their final victory over the Free Cities. A dark age dawns. But Eric and his friend Case are now Pilgrims, called to Levaal for a battle more ancient than the petty squabbles of men. And they will learn why some doors should not be opened…
Will Elliott's The Pilgrims sports a stunning cover, now if I could just wipe that red smudge from my screen…Oh, that's not a smudge, it's part of the cover? Despite the red door that is obviously crucial to the story but nonetheless marring such a great cover, this one looks promising and is due out March 18th, 2014.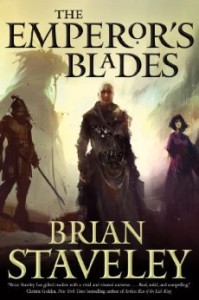 The emperor of Annur is dead, slain by enemies unknown. His daughter and two sons, scattered across the world, do what they must to stay alive and unmask the assassins. But each of them also has a life-path on which their father set them, destinies entangled with both ancient enemies and inscrutable gods.
Kaden, the heir to the Unhewn Throne, has spent eight years sequestered in a remote mountain monastery, learning the enigmatic discipline of monks devoted to the Blank God. Their rituals hold the key to an ancient power he must master before it's too late. 
An ocean away, Valyn endures the brutal training of the Kettral, elite soldiers who fly into battle on gigantic black hawks. But before he can set out to save Kaden, Valyn must survive one horrific final test. 
At the heart of the empire, Minister Adare, elevated to her station by one of the emperor's final acts, is determined to prove herself to her people. But Adare also believes she knows who murdered her father, and she will stop at nothing—and risk everything—to see that justice is meted out.
Aside from the gorgeous cover by the immensely talented Richard Anderson, The Emperor's Blades looks to have a solid cast of characters and an intriguing plot. January 14, 2014.
These titles are just from Tor and all seem to fall within a month of eachother. 2014 looks to be another promising year in the genre.