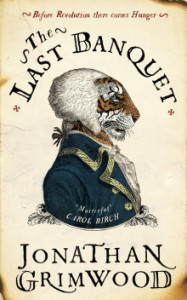 The first time I noticed Jonathan Grimwood's The Last Banquet was when I saw it up on NetGalley several weeks ago and I thought about how cool the cover was. For some reason I cast it aside, telling myself I already have plenty of books to read. Weeks pass, and reviews from a few bloggers I trust for recommendations pop up, drowning the book in praise. I checked back on NetGalley to find that it was archived and no longer available and that it wasn't published in the US. My path led me to The Book Depository, where I found a signed hardcover of the book for $15. I'm pretty frugal when it comes to buying hardcovers, so it was definitely an impulse buy. Once in a while impulse buys pay off, and The Last Banquet paid off in full and more.
Jean-Marie Charles d'Aumont is first and foremost a chef. Even the title chef is a gross understatement. Jean-Marie is a connoisseur on an adventure to taste as many different things as he can in his lifetime. The story opens up and we find Jean-Marie as an orphan sitting by a dung heap munching on beetles. With each beetle consumed, he notes that they often taste like what they'd consumed prior to being eaten. There's a very wry, subtle humor throughout the story, and it shines in the beginning where Jean-Marie eats a beetle before a nearby man can ask him to share, as if everyone eats beetles.
Jean-Marie will eat anything he can get his hands on – frog, loris, snake, dog, cat, lion, you name it, he's eaten it, raw or cooked. Intermittently throughout the book, Grimwood has placed entries of Jean-Marie's cookbook, including ingredients, steps to cook said meal, and what the meal tastes like. Funnily enough, more often than not the meal tastes like chicken, and he reasons that if he'd been weaned on mutton, most meals would taste like mutton, and if he'd been weaned on venison, most would taste so, and so on. d'Aumont is a particular proponent of cheese, moldy and not, and he beautifully describes his favorite, Roquefort, in saying
"It tasted as I remembered, of mould and horses' hooves clipping on brick and dung beetles and sun."
Not only does Jean-Marie crave the taste of any animal organ, hearts, tongues, and all – he seeks the taste from every other locale possible – from dung to urine to milk from a woman's breast, from blood to the taste of sex – he wants it all.
The Last Banquet was full of emotion – not necessarily from the narrator (who is narrating from old age) – but in the prose. Grimwood writes beautifully, as befitting the time prior to the French Revolution. There were some surprisingly dark passages that made my eyes widen in disbelief, some depressing parts, parts that made me angry, that made me happy, and there were parts that were filled with raw sensuality and love. Grimwood encompassed more emotion in The Last Banquet than I've encountered in any story I've read this year.
Through Jean-Marie's attendance in a school for boys and later a military academy, he meets lifelong friends, and through friends he meets lovers and many other kinds of people. There are interesting characters you will hate and love throughout the story, including appearances by greats such as Voltaire and Ben Franklin. We follow Jean-Marie through love and loss, thick and thin, as he rises through the ranks of the French society in the 18th century that Grimwood depicted so very well.
Having a solid amount of knowledge of the Revolutionary era of France, I found myself smiling at how much of the detail written was picture-perfect – The Last Banquet is an ideal representation of the rising class tension, the food shortages, and the decay of French society at the time. From peasants covered in filth giving Jean-Marie and his compatriots angry looks to men and women alike squatting to relieve themselves out in the open without a care in the world. This accuracy made the story feel incredibly real to me.
The sheer scale of The Last Banquet is one of its defining features. Grimwood doesn't give us a glimpse into Jean-Marie's life, or even a decade. He gives us the entire thing – decades and decades of d'Aumont's life. He also includes very thought-provoking material, one such example is when Jean-Marie says
"'I'm not sure the people can cope without the idea of God' I told him. 'Without spiritual heights to which they can aspire…'"
The conversation continues with talk of what the causes of religion are, what the world would be like without it, and other things.
There is so much wonderful content in The Last Banquet and Mr. Grimwood shattered my expectations when I bought the book on a whim. The Last Banquet is the story of Jean-Marie Charles d'Aumont – a man on the quest of taste, going wherever it takes him, from an orphan to a diplomat of the king, country to country, flavor to flavor. I cannot recommend it enough and, having not read Jonathan's previous work, I've got some catching up to do before he puts out another marvelous piece of work like The Last Banquet. Now go buy it.
Find The Last Banquet on:
Amazon (US)
and find Jonathan Grimwood aka Jon Courtenay Grimwood on his site and Twitter.