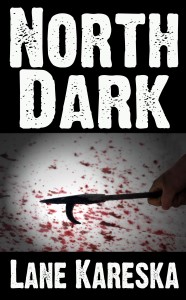 The first question someone will typically ask about my novella North Dark is 'What's the genre?' My answer is always a blend of answers, rambling through influences as old-school as Jack London, as pulpy as Lovecraft and as stark as A Farewell to Arms. But that doesn't really answer the genre question so much as sail the rough waters around it. The best way I can describe its harsh and compact story is to label it a Dark Adventure, which, I think, pretty neatly captures North Dark and a number of the books that engendered it: The Road, Call of the Wild, Jesus' Son. To me, Dark Adventure describes a story that is picaresque and gruesome, a road book and a ghost story, a work that is both wide-eyed and guilty.
North Dark could easily belong under other labels as well: thriller, horror and fantasy. These are all genres I deeply love and avidly read, but the one that I think is the most interesting, the most unexpected is fantasy. In a secret, but very real way, North Dark is a fantasy novella. And that has always kind of surprised me.
As a reader, my fantasy credentials used to be pretty thin. I suppose the only fantasy reading I had attempted were half-hearted reads of Lord of the Rings and Dune during high school. Other than that, I hadn't really ventured too deep into those waters. That is surprising because I regularly experience powerful, sustained nerdgasms during Guillermo Del Toro and Sam Raimi films, but this was the case until a day late in the spring semester during my final year of grad school.
My thesis ventured far into the territory of genre fiction, which can be interesting when you're expected, as part of an MFA program, to produce a literary capstone work. My thesis advisor was a staunch advocate of genre fiction and encouraged me to write what I wanted to read. I was also lucky to have my school's resident hardcore literary advocate on my thesis committee; her name is Beth Lordan and she is brilliant, frightening, and looks like she could easily be teaching at Hogwarts, and I mean that in the best way possible.
I stole a little bit of her time before my thesis defense to talk about what kind of pushback I could expect. We spoke and I found myself honestly asking "You can't only read literary masterpieces; you must read some kind of fluff on the side, right?" What I meant by fluff was anything with a gun or an exposed pair of breasts.
Her answer was "Have you read A Wizard of Earthsea?"
This was a question I couldn't really answer without some BS. A Wizard of Earthsea by Ursula K Le Guin was the very first book assigned to me in my high school freshman English class and, as was true of pretty much every book assigned to me throughout high school, I blew it off.
I picked up a new copy of A Wizard of Earthsea and read it quickly, enjoying it thoroughly. Over the course of the next six months, I found myself reading a ton of fantasy: each of the six books in the Earthsea cycle, Tolkien, Herbert, George R.R. Martin, on and on. I don't—and this is absolutely the truth—think that I was consciously aware that I was doing this in preparation for some written project. But I did intrinsically recognize it. Which is to say, I didn't know what I was working toward, only that I was kind of, slowly, edging myself toward writing something that might have a sword in it.
Then divine guidance hit  on a winter night while I was visiting my Mom and siblings in a Chicago suburb. I got really, really sick—like typhus sick, out of nowhere—and there was nothing for me to do but rot on the couch and watch Netflix on my laptop.
While drifting in and out of consciousness, I absorbed (watched is not the right word) an animated DC comics movie featuring Superman, Wonder Woman and the demonic armies of the planet Apokolips. When I woke up not dead, I found that the beginnings of my eventual fantasy project had weaved itself together. Something apocalyptic that made great use of the fantasy literature I had spent the previous six months reading as well as my deep love of comic books and superhero mythology.
The result, a year and a half later, is the dirty, hungry, savage story of North Dark.
Part fantasy, part adventure. All dark.
Find North Dark on:
Amazon (US)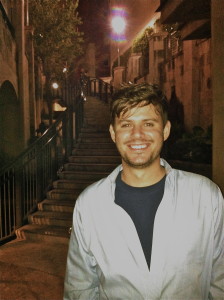 Lane Kareska was born in Houston, Texas. He studied writing at Columbia College Chicago and his MFA is from Southern Illinois University Carbondale, where he was also awarded a Fellowship to live and write in Ireland. Lane traveled Europe and South America to research his graduate thesis. He teaches creative writing and works in technology and new media. His fiction has appeared in Berkeley Fiction Review, Sheepshead Review, Flashquake and elsewhere. Lane currently lives in Chicago and can be followed on Twitter @LaneKareska as well as reached at Lane.Kareska
@
gmail.com.