(This post is tough to repair to presentability  after the migration from Blogger to WP, I apologize.)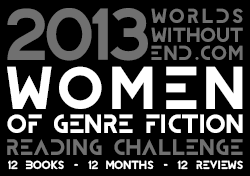 So I'm only half a year late to the party, but I decided to jump on board and participate in Worlds Without End's 2013 Women of Genre Fiction Reading Challenge. The challenge is to read 12 books by different female authors that you haven't read before and write a review for each book. It takes place over the course of the whole year, so a book a month by a female author is easy enough – if you look at WWE's list of female authors you'll see that there are an abundance of talented writers, many of whom you probably haven't read yet. As the year's half over, I've got some work cut out for me if I want to catch up to the crowd. At the end of each month, a poll is put up where members vote for the best reviews. If you end up placing in the top 3 in the poll, you win an Amazon gift card worth $25, $15, and $10 respectively. As if you needed incentive to read any of these great authors, winning a prize can net you a book or three!
I've tried to pick books that either had no or very few reviews on WWEnd, so I am obviously missing some good books by other authors – it's just that they're already popular enough!
Outside of the first book, this isn't necessarily the order I'm reading them in, just the way they appeared on Goodreads. You can click any cover for the book's Goodreads page.
To start it off, I've got Sarah Pinborough's Mayhem. I've been looking at Pinborough's books for a while now and many of them drew my eye – in Poison she retells Snow White in a contemporary way, and in her Dog Faced Gods series she tells an urban fantasy/horror/crime story that looks just as good. Mayhem won out in the end because it tells of a serial killer whose murders take place at the same time that London is in upheaval about Jack the Ripper. Sounds great, doesn't it?
Stella Gemmell's The City is her solo debut after helping her husband, the late David Gemmell, finish the Troy series. I won this one in a Goodreads Firstreads giveaway and have yet to read it. I'm a huge fan of David Gemmell and supposedly Stella writes very similarly so I really look forward to reading about the enigmatic City and its inhabitants.
It appears as though I'm the only one in the world who hasn't read the Earthsea Cycle, and the first one, The Wizard of Earthsea, is considered one of the staples of modern fantasy as well as arguably being the inspiration for Harry Potter. Wizard school can be a very cool concept if done correctly, like it was in Pat Rothfuss's Kingkiller Chronicles, and from what I've read the book has aged well and I am excited to read it.
N.K. Jemisin has been an author I've been meaning to read for some time, and in the end, Justin Landon's review on his blog convinced me to start with The Killing Moon. The premise is very interesting – dreams are magic and priests harvest them – and a rogue fanatic is on the loose, killing dreamers. Jemisin has been praised for creating unique settings and this is no exception.
K.J. Bishop's The Etched City will be my first read in the 'new weird' genre. There seem to be some strange happenings in the book based on reviews, so I'm not sure how the genre will welcome me. It's got an exiled gunslinger though, so perhaps there's room for badassery.
The Whitefire Crossing is Courtney Shafer's tale of a smuggler, Dev, who gets in over his head when he agrees to smuggle a person across the border. The story seems unique in that there don't appear to be many books about smugglers in a fantasy setting – they're reserved for sci-fi. The book has been recommended to me by several friends and the story seems to go in-depth with mountaineering, which is another fascinating concept. Definitely looking forward to this.
This one was a toss-up between two of Martha Wells's books – Death of a Necromancer and The Cloud Roads. The former ended up getting the nod mostly due to the fact that the latter was on many other challenge lists and already had a few reviews on WWE. The book seems like an interesting tale that combines heists with ghouls and mystery. Many of the reviews describe it as a combination of Sherlock Holmes and various other urban fantasy/mystery stories and with that I was sold.
First things first: how awesome is the cover for Marina & Sergei Dyachenko's The Scar? Elegant as if painted by hand and it fits the description of the story very well – a dark Russian tale of disaster and perseverance. The story was originally in Russian and has since been translated to English, so depending on the skill of the translator it could go either way.
Elizabeth Bear's Range of Ghosts is another very interesting one. Set against a backdrop in 14th century Asia where the Golden Horde was steamrolling across the continent and with added fantasy elements in magic, the history-lover in me is sold immediately.
There's something about holding back a swarm of dark things or monsters that doesn't get tiring for me. The Wall in A Song of Ice and Fire, the chains holding the Dark One in Wheel of Time, whatever it is, there's a lot of suspense in expecting something to break through the barriers. In Helen Lowe's The Heir of Night, a wall holds back an army known as the Darkswarm. Another good looking one to read despite some supposed flaws that every debut has.
Another fantasy theme that I enjoy reading about despite its appearance in much of modern fantasy is the frozen north. Supplies ceased to arrive at the penal colony where Blaine McFadden lives, and the people need to decide whether to freeze to death where they are or move back into a kingdom in ruin. The plot seems like it will be very suspenseful, and though it doesn't seem to do anything groundbreaking, it still looks to be a solid read.
And finally, Lion of Ireland by Morgan Llywelyn. Coming from an Irish family, my grandfather in particular enjoyed telling children's tales, and the one I remember the most was about Brian Boru, who unified Ireland and became the first High King of the Irish. An Irish warrior-king, what's not to love?
There you have it! If you're not already participating in Worlds Without End's Women of Genre Fiction Challenge, I highly recommend that you do – it's never too late.
Now if you'll excuse me, I have a lot of reading to do…