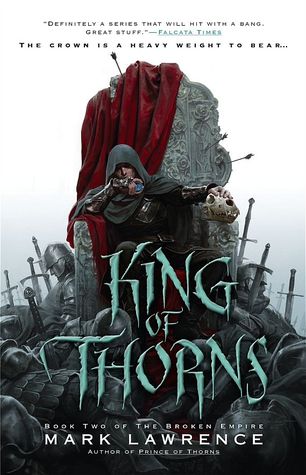 Mark Lawrence has been kind enough to provide a signed copy of the UK paperback edition of King of Thorns, the second in his Broken Empire series, for a giveaway. Though the copy is a UK paperback, the giveaway is worldwide, much to the chagrin of Mark's wallet. I read Prince of Thorns last year and absolutely loved it, but I've made myself a policy where I avoid reading sequels immediately after finishing the first in a series, especially an as of yet unfinished (until August 1st of this year), so as to keep the characters alive in my mind and whatnot. I'll have to do a reread and review when I can get my hands on the final novel.
If you haven't read the blurb for King of Thorns, feast your eyes:
"The boy who would be King has gained the throne…
Prince Honorious Jorg Ancrath vowed when he was nine to avenge his slaughtered mother and brother—and punish his father for not doing so. When he was fifteen, he began to fulfill that vow. Now he is eighteen—and he must hold on by strength of arms to what he took by torture and treachery.
King Jorg is a man haunted: by the ghost of a young boy, by a mysterious copper box, by his desire for the woman who rides with his enemy. Plagued by nightmares of the atrocities he committed, and of the atrocities committed against him when he was a child, he is filled with rage. And even as his need for revenge continues to consume him, twenty thousand men march toward the gates of his castle. His enemy is far stronger than him. Jorg knows that he cannot win a fair fight.
But he has found, in a chamber hidden beneath the castle, ancient and long-lost artifacts. Some might call them magic. Jorg is not certain—all he knows is that the secrets they hold can be put to terrible use in the coming battle…"

If you don't win you should buy it anyway to support Mark and his future projects.
Giveaway ends on Monday June 17th, 2013 at 12:00AM EST.
For Entry:
Log in to Rafflecopter.
The first entry is mandatory and the only one you need to click.
You can improve your chances of winning by gaining entries through Twitter or other options listed in Rafflecopter.
One full entry per person.
Email needs to be valid in order to confirm the win.
Winner will be randomly selected by Rafflecopter.
Giveaway is worldwide.